Starting a business is an exciting time. There are so many things to think about but you don't want to miss any of the vital steps.
I'd like to talk about a couple of the important things from an accounting perspective. Please remember, as always, that your own personal situation is going to be different to anyone else's and that you should seek advice from your own accountant.
You need to consider what sort of legal structure suits your situation. Options include operating as a sole trader, partnership, trust or company. Factors to influence your choice include if you are working alone or setting up your business with someone else.
Is a trust structure more suited to your circumstances or would a company fit you better?
There are other factors which will influence what will be the best decision for you – they can include the set up costs, ongoing costs and legal responsibilities and risk to your own personal assets.
When you've decided on your structure your next steps include deciding on and registering a business name and an ABN. You may also consider registering your domain name and applying for any applicable trademark,  licences or permits.
You'll need to make sure that you have the right insurances in place. Consider what risks there are in what you are doing. You may need to have public liability or professional indemnity insurance, to insure assets in your business such as tools or computer or WorkCover insurance if you are going to employ staff .
When you have completed your business plan you should have in place a budget and some financial projections. If you are borrowing to start your business, your bank will definitely want to see these.  And, of course, consider what accounting software will suit you best so that you are ready from the beginning.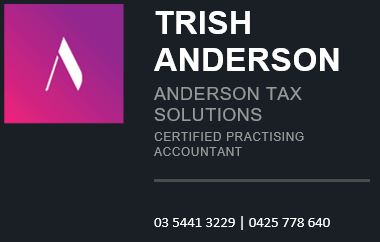 You can see from all of this that there are lots of things to think about! Ask as many questions as you can when you visit your accountant. Make a list and hopefully you'll be comfortable enough to take it all in. If you have any questions get in touch and I'll let you know if I can answer them.
Trish Anderson, Certified Practising Accountant